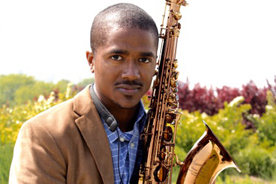 Saxophonist, Darius Hampton holds down month's showcase of Chicago jazz, celebrating Louis Armstrong alongside of Court Theater's production of, "Satchmo at the Waldorf." The Hyde Park Jazz Society selects local jazz musicians
to perform on the third Tuesday of every month at Café Logan. Enjoy beer, wine, a full coffee bar, and food along with some of the best jazz the city has to offer.
Presented by the Logan Center and Hyde Park Jazz Society with additional support by WDCB.
Free Admission